2016 UPIEAA Conference and Alumni Homecoming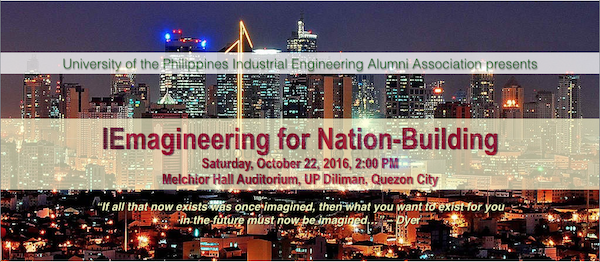 IEmagineering for Nation-Building
Saturday, October 22, 2016, 2:00 PM
To be followed by Alumni Homecoming Cocktails
Melchor Hall Auditorium, UP Diliman, Quezon City
"If all that now exists was once imagined, then what you want to exist for you in the future must now be imagined" – Dyer
Keynote Speaker
Fortunato T. De La Peña
BS Che '69 MS IE '76
Secretary, DOST
"The S&T Priorities and the Role of Industrial Engineers in the Development Agenda"
Why should I attend?
The Philippines is a rising economy, a potential financial, manufacturing, and BPO powerhouse. Only imagination, inner conviction and determined action of technically trained and nation-loving individuals can usher us into the future. This conference will fuel the nation-builder in us by tackling critical issues and unlocking opportunities in emerging technologies. Re-discover your role in transforming society and IEmagineer with us.

Who should attend?
IE Students, other members of the academic community, IE professionals, UPIE Alumni, practitioners in other Engineering fields.
Rene Santiago 
Managing Director at Bellwether Advisory Inc
"The Elephant On Metro Manila's Roads"
There is no silver bullet to ending Metro Manila's traffic woes. Experts have set out a comprehensive set of measures, a roadmap, if you will – but implementation has been patchy. This presentation will focus on one subset, the transformation of the jeepneys into the digital age. It is the elephant in the room which no one dares confront. And yet, its benefits can be immediate and long term. More importantly, the One solution that would ignite a chain reaction towards a congestion-free and liveable metropolis.
John Bailon
Co-Founder and CEO at Satoshi Citadel Industries
"Introduction to Blockchain Technology"
Blockchain is a new breakthrough technology that enables multi-party access to a distributed ledger. It's the technology behind the cryptocurrency Bitcoin and is paving new ways to approach financial systems with efficiency and data integrity at the core. But the blockchain has a lot more to offer. This revolutionary technology enables the existence of unique digital assets that are not controlled by a central authority. The applications of such a technology are endless, and we have yet to realize its full potential. Similar to when the Internet was just starting in the 90's, no one would have predicted the coming of Facebook and Google back then.
Rebecca Ricalde
Head of Go-To-Market Team at Digital Commerce at Voyager Innovations Inc.
"SCM 2.0: Shifting to Customer-Centric Operations in E-commerce"
Customers of digital products expect platforms to know their habits and preferences, to allow personalizations and receive their services at exceptional service levels. This has pushed e-commerce businesses to re-imagine how to deliver customer demand at high customer service levels and at low operational costs.
Conference Registration Fee
P1,000 UPIE Alumni (inclusive of Alumni Homecoming Cocktails)
P500 Professionals (non-Alumni)
P100 Students and Faculty
For inquiries, please e-mail conferences@upieaa.org or call 0925 5304243
Share this page: