Search is On for UPIEAA's Nominee to UP Alumni Engineers' Outstanding IE Alumni Award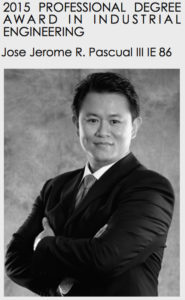 Every year, the UP Alumni Engineers stages its homecoming and an integral part of the homecoming is the announcement of most outstanding UP engineering alumni in various fields and disciplines. The departmental alumni organizations – with UPIEAA representing the IE alumni demographic – are enjoined by UPAE to submit its nominee or nominees which is then vetted by a select UPAE board before the final line-up of awardees are formalized and announced at the homecoming this November.
In the past, the following IE alumni had been duly recognized for their contributions – Ricky Banaag, Dante Briones, Nicky Villasenor, Mon Jocson, Noel Tempongko, Jop Yap, Bess Yap, Jody Gadia, Bing del Rosario, Elise del Rosario, Dan Valenzuela, Jeng Pascual, Mon Segismundo, Ric Paringit, Chito Calingo, Nixon Hao, Mars Mendoza, Anton Rivera, Jajo Quintos, Nards de Ocampo, Wash Roqueza, Babes Singson, Peter Valdez,  Jeng Guiao, Elmir dela Cruz, Fernando San Miguel, Joseph Phi, Art Calaguas, Jeremias Paul, Pete Maniego, Paeng Santos, Katrina Limcaoco, Julito Vitriolo, Timmy Diaz de Rivera, Ega Atanacio, Luwina Enecio, Val Reyes, Mac Fojas, Rufino Bumasang, Antonio Ng, and Ding Villena. The most recent awardees were Jop Yap in 2016 and Jeng Pascual in 2015.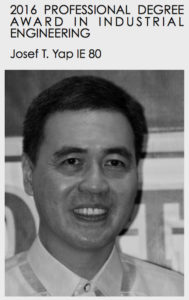 The UPIEAA executive board extends its invitation to all IE alumni to nominate IE  batch mates, alumni friends and other IE alumni whom they know or have heard about who they think might merit serious consideration for past and recent accomplishments. The nominator must include a CV, resume or intro material for his nominee. Please e-mail the UPIEAA Secretariat @ secretariat@upieaa.org.
The deadline for nominations to UPAE is September 15 so we will need to receive your nominations earlier. Confer with your batch mates as soon as possible and see if the same names come to mind. There is no age or batch limit – we recognize that there could be young achievers or even IE alumni millennials out there who may have already accomplished a lot and deserve recognition. Nominees who are nominated but not selected will be automatically included in the long list for next year.
The UPIEAA board will be awaiting your responses!
Share this page: