UPIEAA Director Yap Elected to UPAE Board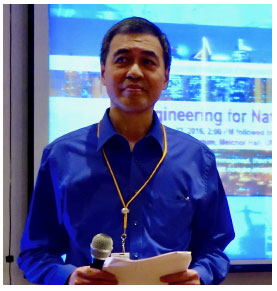 UPIEAA director Josef 'Jop' Yap joined the UPAE board of directors, in elections conducted at the annual UPAE homecoming last November 18. The UPIEAA board agreed to nominate Jop at the October board meeting.
Jop got the third highest votes of the nine candidates who were presented to the candidates, despite not being a nominee of any of the engineering fraternities. Clearly, Jop's credentials impressed the alumni in attendance.
Josef 'Jop' Yap is currently a Professorial Lecturer with the University of the Philippines School of Economics. He was formerly President of the Philippine Institute for Development Studies, where he worked for 26 years until his retirement on June 30, 2013. While at PIDS, he specialized in macroeconomic policy and applied econometrics. Dr. Yap Tinished his undergraduate (BS IE, 1980) and doctoral studies (PhD Econ, 1985) at the University of the Philippines Diliman and went to the Universi t y of Pennsylvania on a post-graduate program. In 2010, Dr. Yap was honored as one of the 100 outstanding alumni of the UP Diliman College of Engineering as part of its Centennial celebration. His current research interest centers on regional economic integration in East Asia. Dr. Yap was the regional coordinator o f the East Asian Development Network and was actively involved in the establishment of the Economic Research Institute for ASEAN and East Asia (ERIA). He is co-author of the book "The Philippine Economy: East Asia's Stray Cat? Structure, Finance and Adjustment" and is an Editorial Adviser of the Asian Economic Journal.
Share this page: