UPIEAA Sponsors IE 2017 Graduation Dinner
The UPIEAA board hosted the traditional dinner for the IE graduating batch of 2017, last June 20 at Celebrity Sports Plaza. IEOR Department Chair Lowell Lorenzo gave the opening remarks, congratulating the graduates and explaining the future directions of the college and the department.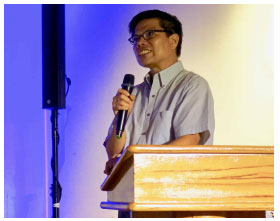 UPIEAA Vice President Kenny Bulahan gave the IE graduates an overview of the various activities being organized and planned by the alumni association, with emphasis on the IE Achievers program, which solicits funds to assist the financially-challenged IE students and instructors. He also elaborated on the planned symposium, a repeat of the ground-breaking first symposium led last October 22, 2016. UPIEAA president Ricky Banaag followed Kenny with the Oath of Membership to UPIEAA, as he officially inducted the 90 May 2017 graduates of the BSIE program.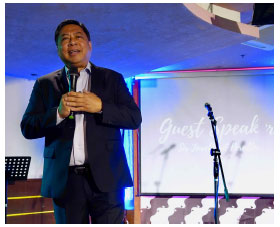 A highlight of the evening was the talk by the oldest graduate of Batch 2017, Jewellord 'Dod' Peralta. Dod had spent most of his career with IBM Philippines except for a two-year stint at Philamlife from 2005 to 2007 as CIO. he rejoined IBM until he became the President-GM of IBM Solutions Delivery Inc. from 2011 to 2015. He then joined IBM Global Business Services in Singapore as Delivery Leader for more than a year before Pinally retiring from IBM. He is now a Strategic Planning Manager at Wells Fargo Enterprise Global Services. Dod narrated to the assembly how he missed graduating when IBM offered him a job and they gave him a deadline that meant he couldn't complete the last remaining units of the IE program. Some 35 or so years later, Dod finally completed the remaining subjects to clinch his IE undergraduate degree.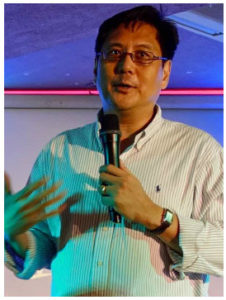 Outgoing IE Rep to the Engineering Student Council Renzo Capistrano gave the closing remarks.
This was followed by the awarding of various recognitions.
The Best IE 156 project, under Mr. Lagria, was awarded to the GM Dentista Clinica project, that included Isabelle Mediarito, Lyka Pagaspas, and Jamie Tomiloso.
The Best in IE 155, under Ms. Michay Pacia, was won by the Custom Thread project, participated in by Quirby Alberto, Christian Raagas, Jose Miguel Salvo, and Johntee Tantuco.
For IE 32, or Methods Engineering, under AJ Portus, the best project was awarded to the St. Pio Printing Services. Project team members included Angel Baladiang, Christine Beltran, and Harvey Lor.
The organizers also recognized the two Summa Cum Laude contributions by IE, namely: Quirky Alberto and Johntee Tantuco.
The awards formally ended the dinner program. Despite this, the graduates remained in the venue and mingled-chatted away for another hour or so.
Share this page: