From the President: Ricardo Banaag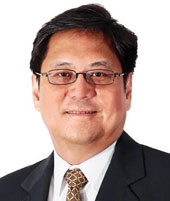 I am both privileged and honored to lead the UPIEAA for the coming 2 years. The Board of Directors and I would like to "hit the ground running" by continuing the projects that directly support the IE students, IE Alumni and the IEOR Department.
Our Achievers Program remains to be the primary focus of our efforts to extend direct financial assistance to deserving students and faculty members. We hope to maintain the momentum from last year's success in generating participation and assistance from IE alumni all over the world.
Our heartfelt gratitude to alumni who had contributed, not only financially, but also their time and efforts to jump start this campaign. This year, we will also seek support from the corporate sector to extend the assistance to even more student and faculty recipients.
Encouraged by the strong student participation from last year, we are excited to hold our 2017 IEmagineering Symposium this October 21.  This year's theme will revolve around Innovation and Entrepreneurship as a foundation for nation-building.  We are already in close coordination with the DOST to develop and deliver even more relevant and timely content for all participants.
One of the priorities of the UPIEAA is to promote and strengthen the camaraderie among IE alumni through networking activities, both physical and virtual. We would to build the foundation for a UPIEAA online community, recognizing the wide reach of social media. To achieve this, we have accelerated efforts to populate and update our IE alumni database. There are almost 3,000 UPIE alumni and we hope to reach as many alumni as we can this year.
Let me take this opportunity to thank UPIEAA Past President, Bing del Rosario, for his leadership, contribution and continued guidance.
The Board and l look forward to working with the UPIE community to realize another banner year for the UPIEAA!

Ricardo "Ricky" Banaag
UPIEAA President
Share this page: