Justo 'JJ' Alano is UPIEAA Awardee for IE Alumni of the Year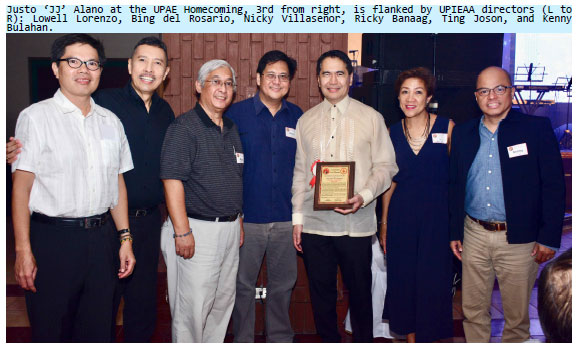 UPIEAA President Ricky Banaag, UPIEAA Vice President Kenny Bulahan, UPIEAA Secretary (and IEOR Department Chair) Lowell Lorenzo, Director Nicky Villasenor, and director (and former UPIEAA president) Bing del Rosario attended the UP Alumni Engineers 2017 Homecoming last November 18 at the Bahay ng Alumni, Magsaysay Avenue, UP Diliman campus.
The homecoming is annually organized by the UPAE. It's usually staged at Bahay Ng Alumni, except on a couple of occasions when the event was held at Manila Polo Club, Makati City.
Aside from the dinner, the homecoming program always includes welcome remarks and update on the college from the dean, awards for outstanding alumni, release of the annual yearbook, called Ingenium, the honoring of silver, ruby, and golden jubilarians, and election of directors to Will up vacated slots on the UPAE board.
Other IEs who attended were – Elise del Rosario, Tess Noel-Marquez, Val Reyes, Ogie Alzona, Sonny Dungca, Mars Mendoza, Bugsy Banaag, Ting Joson, Wash Roqueza, and JJ Alano.
JJ Alano was awarded the Professional Degree in Industrial Engineering Award.
A bit later, the engineering 'Rubilarians' (Batch 77) performed a song and dance number – LabU UPEngg – before receiving their jubilee medallions . The 10 performers, who sang and danced to UP-focused adaptations of 'Manila, Manila', 'Anak', 'Kay Ganda ng Ating Musika', and Isang Mundo Isang Awit' wowed the crowd with their synchronized dance movements and fancy black with red-sequined costumes. It was noteworthy that nearly all the engineering disciplines were represented in the performing group – IE, ChE, ME, EE, CE, MetE. The IE performers in the group included Tess Marquez-Noel, and husband and wife duo of Elise and Bing del Rosario.
The UPIEAA board has been a staunch supporter of UPAE, with President Ricky and Vice President Kenny alternating in attending the monthly UPAE board meetings, the only consistent departmental alumni organization to do so.
Share this page: